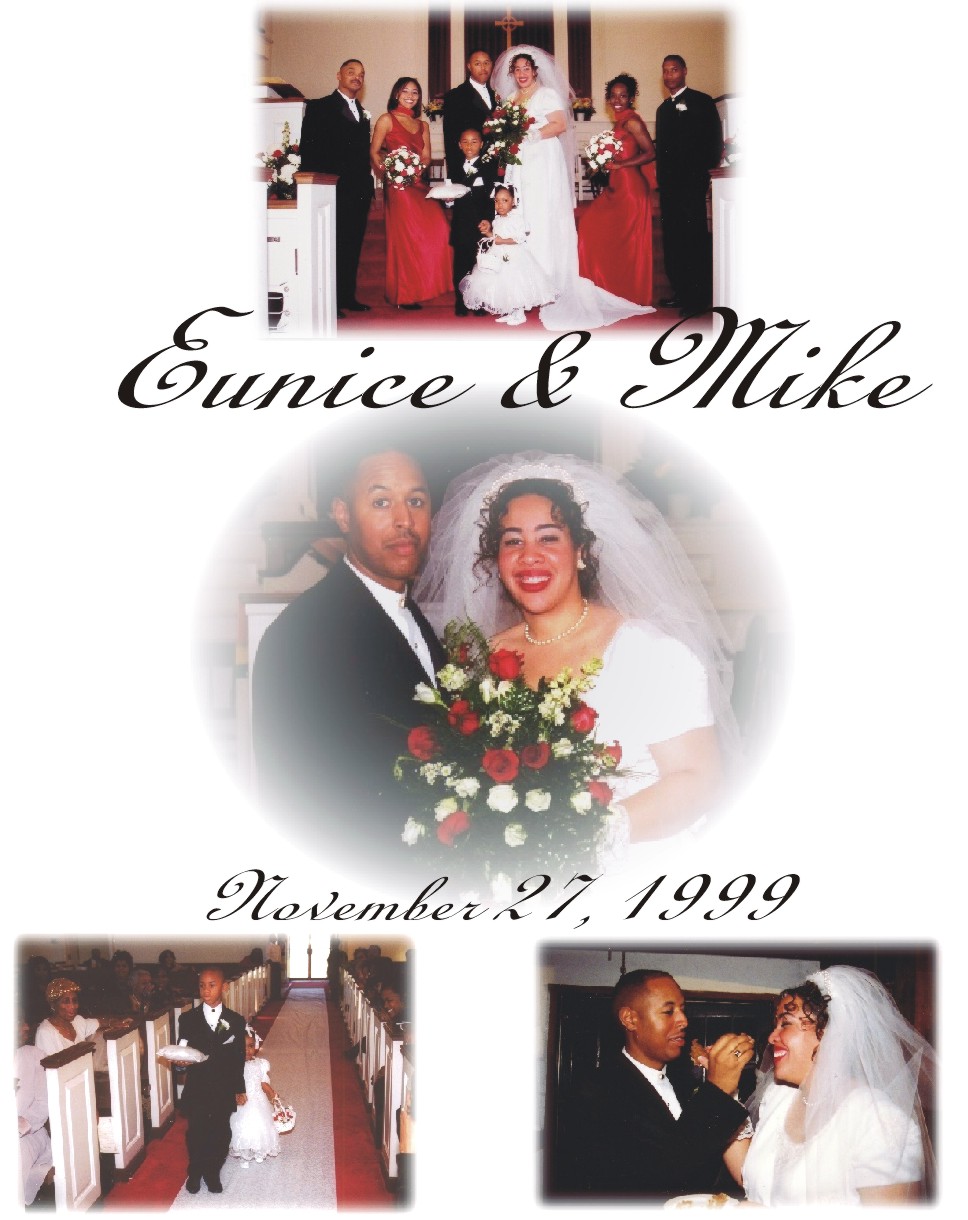 ________________________________________________________________________

We had an inside look at this wedding - why you ask - because Melody, one of the Kennedy Corridor staff members, was the maid of honor at Eunice and Mike's wedding. Eunice took on the task of putting together this wedding. It started with the plans of who was going to do what. Everyone came to the bat and struck homeruns - Eunice's sister, Kim, made a two-tier cake from scratch...no, not any old yellow cake with icing, but the most delectable sweet potato cake - what a pleasant surprise on that first bite. Melody, her best friend and maid of honor, was right there at Eunice's beck and call. The telephone never stopped ringing. It was Eunice, "Is Melody there?", "Melody, how do we do this?, "Should we make the flowers?", "What about the programs, the bridal registry?" Yeah, what about those programs! - Melody has a desktop publishing business called Bells & Whistles, an appropriate name describing how she gets on that computer and rings every bell and blows every whistle to produce the cutest bridal shower wish lists and the most elegant wedding program designs. You name it, you got it. Oh no, it does not stop here...Eunice and Mike are smart folks. They knew how to utilize their family and friends to enjoy the journey to their wedding day. Next, we have Eunice's grandmother, Mrs. Elizabeth Fleming, who took on the task single-handedly to - you guessed it - make Eunice's wedding gown! When the doors opened at the church, in walked Eunice. She looked beautiful, beaming with excitement and complete and utter joy. Mike looked down the aisle with the biggest, roundest eyes you've ever seen. Grandmother, you are a success - Eunice's dress fit absolutely perfect with soft white satin roses framing her lower back with a tulle train cascading from the roses on her gown which had short sleeves and a scoop neck. Kim did her make-up. Nothing else could have made her any more complete.

Eunice was the cynosure for sure. Mike and Eunice said their vows, exchanged rings, and sealed their promises with a kiss. Now its mom's turn... Ms. Cecelia Fleming stepped up to the bat and provided that almighty financial backing for their reception site which was held at the scenic 94th Aerosquadron in College Park, Maryland.

To God be the glory!